Virtual reality with 3D ware­house planning
Virtual reality in logistics con­sulting
Ware­house sim­u­lation, ware­house visu­al­ization and ware­house ani­mation in 3D
When planning logistics facil­ities, logistics systems and logistics buildings, we rely on our three-dimen­sional planning and sim­u­lation tool..
Within a short time, true-to-scale logistics buildings and facil­ities can be repro­duced and material and goods flows can be sim­u­lated in real time.
Are you about to plan a new logistics building or do you want to optimize your logistics processes?
With our 3D ware­house planning, we visu­alize your logistics building according to your planning ideas and with real­is­ti­cally depict ware­house tech­nology, material and goods flows.
Even before the real­ization starts, you can have a look inside your building.
By using our 3D planning software, we present concept variants in a tan­gible and com­pre­hen­sible way. The per­for­mance and pos­sible bot­tle­necks of the ware­house or logistics system can be iden­tified before the imple­men­tation starts. High expenses from sub­se­quent process cor­rec­tions can be avoided.
Walk through your ware­house vir­tually
With the use of our VR tech­nology
Our 3D storage models are designed to be used with VR glasses. With the VR glasses we use, it is pos­sible to interact with spe­cially designed con­trollers in virtual reality. For example, you can operate machine oper­ating ele­ments or even com­mission vir­tually.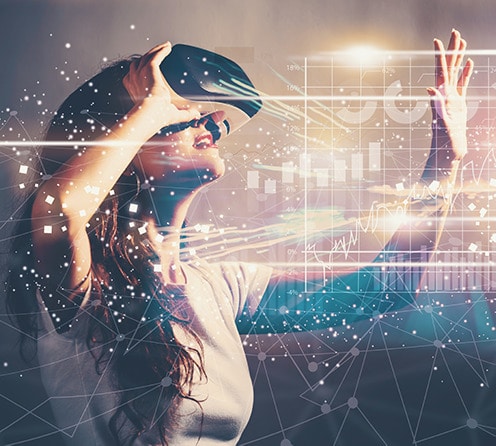 Your advan­tages with our 3D ware­house planning

Indi­vidual, abstract logistics processes become more com­pre­hen­sible through the spatial 3D rep­re­sen­tation

Cost opti­mization and trans­parency
An ini­tially higher effort is amor­tized with regard to the costs for error cor­rection after­wards within a very short time.
Lower devel­opment and imple­men­tation costs through process quality.
By means of stored, current market com­ponent prices, we rep­resent the invest­ments of the designed plant solution with all its com­po­nents and evaluate them with a gran­u­larity of +/- 30%.

The system can be tested vir­tually before com­mis­sioning. Unpre­dictable effects are thus reduced to a minimum.
The sim­u­lation with real cus­tomer data regarding speed, physical prop­erties as well as material flow density shows the system load capacity and future per­for­mance.

The inter­active 3D model is pre­des­tined for the imple­men­tation of edu­cation and training as part of famil­iar­ization or the inter­nal­ization of new logistics processes.
Through a virtual exercise room, employees can be instructed in their tasks and mem­orize pro­ce­dures and processes before the oper­a­tional deployment.
The employee has the oppor­tunity to interact with the model and to learn so picking or packing processes.. The employees get sup­ported by the display of check­lists

Since restruc­turing, new buildings or automation projects are often asso­ciated with con­sid­erable costs, it is important to present the added value for the company as clearly and com­pre­hen­sibly as pos­sible.
Pos­sible appli­ca­tions within our logistics projects
Three levels of detail — depending on the project phase and the planning objective
The static cre­ation of a 3D ware­house layout serves to reproduce the actual or target state and does not involve any moving processes.
It is suitable for every project phase and can be imple­mented at short notice. In the concept phase, for example, various planning alter­na­tives are pre­sented, which serve as a basis for decision-making.
The ware­house ani­mation real­is­ti­cally depicts the internal logis­tical process in moving pic­tures and thus creates an easily under­standable basis for eval­u­ating new tech­nologies.
Real data bases such as throughput quan­tities are not taken into account.
In ware­house sim­u­lation, ware­house processes and pro­ce­dures are sim­u­lated dynam­i­cally and real­is­ti­cally.
Throughput quan­tities as well as throughput times can be para­me­terized indi­vid­ually for each cus­tomer. The planned logistics solution can be checked in advance for per­for­mance limits, fault sce­narios and bot­tle­necks.
Logistics building with modern storage tech­nology
The sim­u­lation video shows a complex logistics building equipped with modern ware­house tech­nology. The high-bay ware­house com­prises a fully inte­grated, highly dynamic picking area with 700 pallet spaces and offers picking of around 2,500 items per 8‑hour shift. The under­ground con­nection of another building was designed in the planning sim­u­lation with a bidi­rec­tional high-per­for­mance con­veyor system so that all goods at this location, regardless of their storage location, can be pro­vided indi­vid­ually according to capacity uti­lization or internal appli­cation of value-added ser­vices, cor­re­spond­ingly at the goods issue points.
Use of dri­verless transport systems (FTS)
The sim­u­lation video shows a 3D model of a pro­duction ware­house including the ware­house tech­nology and a sim­u­lated flow of goods. In the ware­house tech­nology, an auto­mated high-bay ware­house with narrow aisle stacker cranes was designed, which serves both as a replen­ishment and picking ware­house. The transfer of picked goods (partial com­mis­sions and full pallets) from the high-bay ware­house for supply to pro­duction and later as fin­ished pallets to dis­patch / goods issue should be auto­mated / unmanned. For this purpose, so-called FTS (dri­verless transport systems) were used.
Material flow sim­u­lation of new central logistics ware­house
The sim­u­lation video shows a central ware­house in 3D, which was mod­elled and detailed in the planning phase. The material flow system was real­is­ti­cally sim­u­lated and dis­played. The com­plete oper­a­tional concept was developed in the planning phase in close coop­er­ation with the USZ logistics man­agers and sub­se­quently by InterLog. The sub­se­quent com­mis­sioning of the ware­house and storage systems was also oper­a­tionally sup­ported by InterLog.
Our team of experts sup­ports you
Our team of experts in 3D ware­house planning is at your dis­posal in your con­ceptual design of logistics facil­ities, logistics systems or logistics buildings in every project phase.